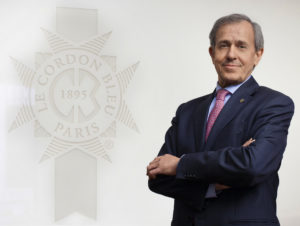 Could you tell us about ''Le Cordon Bleu'' institute, its history, its goals and its strengths?
With over 120 years of experience, Le Cordon Bleu provides the very best culinary and hospitality training. Whilst staying true to its philosophy, which is founded on excellence, our Institute has never ceased to evolve in order to meet the realities and needs of today's world. Le Cordon Bleu offers a wide range of training programmes, from initiation in the culinary arts, right through to university curricula in the restaurant, wine, hospitality and tourism sectors.
Today, Le Cordon Bleu institutes constitute the leading global network of culinary arts and hospitality management institutes, which can be found in more than 20 different countries with in the region of 35 Institutes welcoming in excess of 20 000 students every year.
Ever since the first Institute opened in Paris in 1885, Le Cordon Bleu has been committed to teaching the techniques and expertise inherited from the great names of French cuisine. Lessons are taught by leading Chefs, the majority of whom have worked in Michelin starred restaurants or received prestigious awards.
Throughout the years, the reputation of Le Cordon Bleu institutes has never wavered. Its training programmes, which use the most innovative technologies, are regularly updated in order to open the doors to myriad career opportunities. Our university programmes are constantly adapted with the support of the special partnerships we have built with government authorities, universities and specialised organisations around the globe.
Le Cordon Bleu contributes to promoting French culture and the French art of living throughout the world by developing the best quality gastronomy and hospitality models. In recent years, our activities have become much more diversified and include publishing cookbooks, distributing gourmet products and professional cuisine equipment, opening restaurants and even taking part in television shows.
Presentation of our activities in Paris, the flagship of the Le Cordon Bleu network: https://youtu.be/rUENzWD0JvQ
In 1897, Le Cordon Bleu welcomed its first Russian student, how has the situation evolved today? How wide is your global reach, and where can you be found around the World?
Ever since the 1990s, the network of Le Cordon Bleu institutes has undergone rapid international development, in its aim to provide the best culinary and hospitality training to an increasingly large number of students, whilst meeting the needs of local industries.
The network of Le Cordon Bleu institutes continues to develop and expand across the five continents. The most recent are: two campuses in Brazil in 2018, one in Sao Paulo and the other in Rio de Janeiro and one campus in Manila, in the Philippines, in April 2019, where Le Cordon Bleu now teaches a Bachelor in culinary entrepreneurship, and will shortly provide the culinary arts training programmes for which it is internationally renowned.
Le Cordon Bleu is the leading employer of French Chef Instructors in the world, all of whom are dedicated to teaching their expertise and contributing to the development of French gastronomy and culture. The prestige and recognition of our institution are further cemented by our Chef Instructors taking part in around a hundred events and gala dinners around the globe every year.
The globalisation of the gastronomic scene in recent years has led to increased and more comprehensive exchanges between French and World cuisines. The main goal of Le Cordon Bleu is to spread and promote France's cuisine and gastronomic heritage, but the Institute also plays a key role in the recognition and appreciation of the gastronomic cultures of the countries in which its Institutes are located.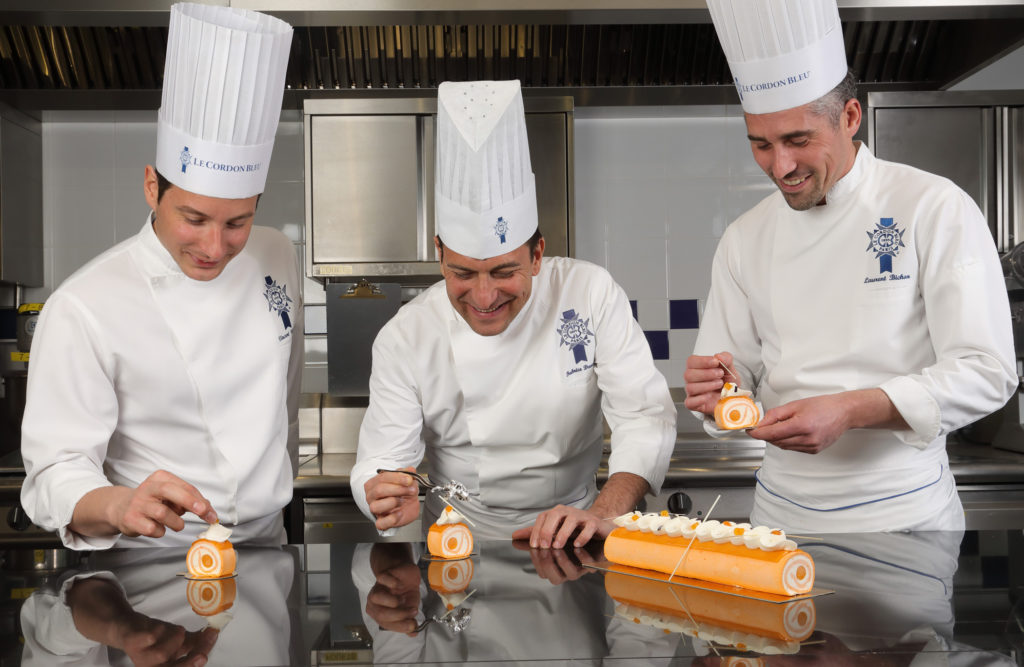 You opened new premises in Paris's 15th district in 2016, what impact has this had on the Institute? What new opportunities have arisen?
The new Le Cordon Bleu Paris campus opened in June 2016 and welcomes in excess of 1 000 students every year. Overlooking the Seine and the Statue of Liberty, it sits alongside Beaugrenelle shopping centre, a stone's throw away from the Eiffel Tower. Although a Le Cordon Bleu institute has been present  in the 15th arrondissement for decades, the new location provides students with every modern comfort possible for the best educational environment.
The 4000 m² flagship institute is fitted out with ultramodern equipment and boasts the latest technology, with particular emphasis on the use of digital systems. Built of aluminium and glass, the building's design was envisaged with the latest environmental norms in mind enabling it to be eco-friendly.
The roof of Le Cordon Bleu Paris institute has also been transformed into a vegetable garden measuring more than 800 m², making it one of the largest vegetable gardens in Paris.
The garden is energy autonomous (heat from the kitchen hoods is recuperated, a rainwater tank, composters) and also gives students the opportunity to discover how fruit, vegetables, herbs and edible flowers are grown in an urban setting. Beehives on the roof supply the Institute's honey and some of the fresh ingredients are used in recipes.
This campus provides students with 7 practical classrooms for cuisine, pastry and boulangerie lessons, one of which has been specially designed for Asian cuisine classes. The Institute also boasts 3 demonstration rooms, 6 modular classrooms and a room dedicated to wine.
Visitors are also very welcome at the Institute. The campus's Boutique offers a range of products recommended by Le Cordon Bleu Chefs and Le Café Le Cordon Bleu provides everybody with the opportunity to try a range of quality goods either on-site or to take-away.
Finally, Le Cordon Bleu institute has created a range of workshops and cuisine lessons for the general public, with the aim of giving everyone the opportunity to develop their creativity and palate, thanks to the wide variety of themes available.
The testimonials of numerous Le Cordon Bleu alumni can be found on your website. Is a training programme at ''Le Cordon Bleu'' institute a passport to success?
Le Cordon Bleu is proud to be the largest global network of culinary arts and hospitality training Institutes, recognised around the world for the excellence of its training programmes.
It is true to say that Le Cordon Bleu training programmes provide an international passport, enabling you to embark on a career in the gastronomy field. We are delighted to see our students reaching their full potential in a variety of roles such as journalists, food critics, writers, food photographers, chefs and/or entrepreneurs, some of which are Michelin starred or have won prestigious awards, teachers, restaurant and hotel managers, nutritionists, TV and Radio presenters, sommeliers, wine agents, F&B managers, retailers…
The achievements of our alumni are a clear indication of the success of the education they receive at Le Cordon Bleu and there are many outstanding career paths. For example, Le Cordon Bleu alumna, chef Garima Arora, became the first Indian woman to be awarded a Michelin star for her restaurant, Gaa, in Bangkok, Thailand, in 2018 and was awarded the title of Best Female Chef in Asia in 2019. Another alumnus, Justin Kim, was named managing director of luxury hotel, Merchant House, in Bahrain.
Your global presence is very impressive, what are your upcoming plans?
Le Cordon Bleu is focused on listening and responding to needs and requests from around the whole world, in order to train the future generations of chefs, entrepreneurs, and managers in the gastronomy field.
Le Cordon Bleu has just announced the opening of a new Institute in the Philippines, where it will teach the culinary arts, and management as part of the Bachelor programme. In addition to opening new Institutes, Le Cordon Bleu is extremely committed to ensuring its training programmes are outstanding. For this reason it gives upmost importance to developing new programmes and constantly updating those already in existence.
Last but not least, Le Cordon Bleu has just launched an Online Learning Programme proposing a variety of courses linked to the field of Gastronomy.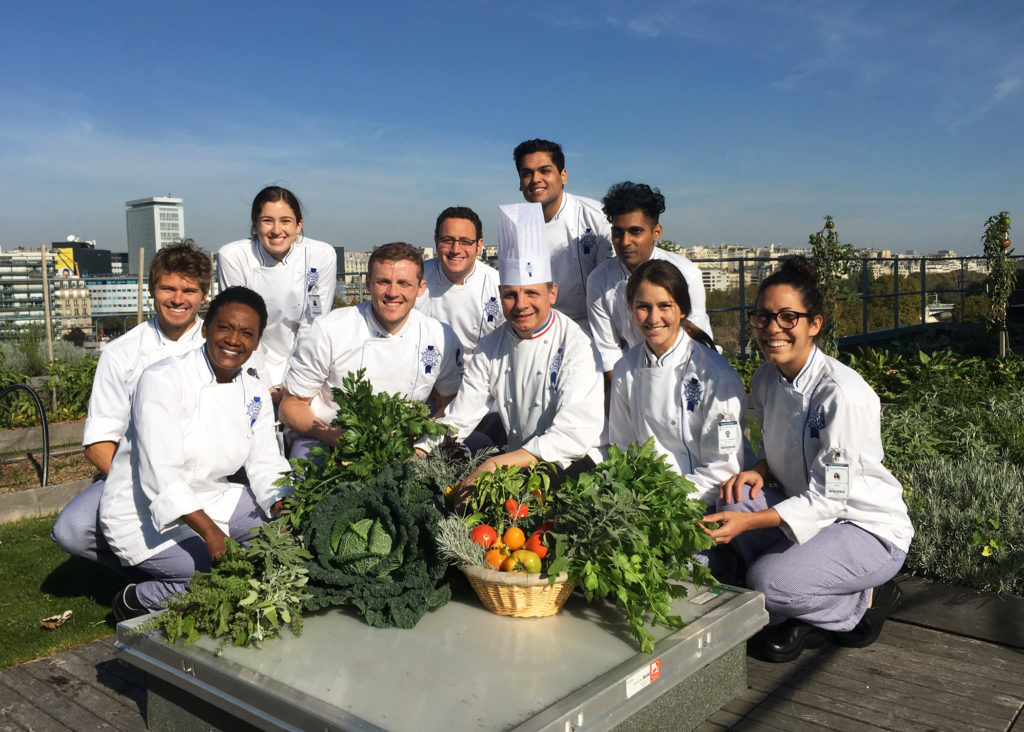 Gastronomic heritage is an essential element of our society in a variety of domains: education, culture, health… How can we ensure it is perpetuated and that it continues to keep pace with a society which is constantly evolving?
Le Cordon Bleu supports global gastronomic heritage by training key players to meet the needs and challenges of the future.
Pedagogical innovation is firmly rooted in the institute's DNA. The changes, which constantly impact the Culinary Arts, whether in terms of developments in ingredients, techniques, equipment, or trends which affect restaurant standards, are continuously taken into account. In this way, Le Cordon Bleu keeps a sharp eye on the evolutions taking place in the market and its concerns, in order to always meet the needs, both local and global, to the best of its ability.
There is currently widespread concern in the field of gastronomy: how can we eat/consume more effectively for better health whilst protecting the environment? This has led to increased interest in fermented foods, such as Kimchi and Kefir, locally sourced ingredients, plant based dishes etc. These trends raise further questions about nutrition, ingredients, their quality, their flavour and the techniques which enable them to be used to their full potential. Le Cordon Bleu supports this evolution in the gastronomy sector thanks to its programmes, including the Diploma in Gastronomy, Nutrition and Food Trends, Vegetarian Culinary Arts Diploma, and the Bachelor of Integrated Food Sciences.
At a time in which gastronomic culture and the associated expertise are gaining increased interest and enthusiasts, when exchanges between French cuisine and world cuisine are increasing and becoming more comprehensive, the future looks bright for our students.

CONTACT :
Le Cordon Bleu
cordonbleu.edu
Le Cordon Bleu Paris
13-15 Quai André Citroën 75015 Paris, France
Tel: +33 (0)1 85 65 15 00
Fax: +33 (0)1 85 65 15 01
http://cordonbleu.edu/paris