Dr Groebel is also Head of the Department of International Relations/Postal Regulation at German regulator Bundesnetzagentur. CEER is the Council of European Energy Regulators, the non-profit association of Europe's national energy regulatory authorities.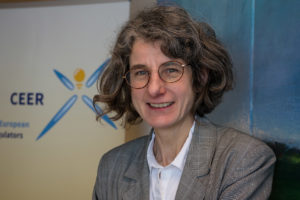 What regulatory challenges does energy transition currently bring and how does CEER deal with them?
The energy transition essentially means moving to a future of greatly increasing electrification of economic activities and extensive decarbonisation of the energy and other sectors such as transport, leading to reductions in the use of unabated natural gas (and other fossil fuels). This can only be accomplished with large increases in variable renewables and enhanced digitalisation of the energy sector. At the same time, more and more energy generation will be distributed, not only consumption.
Hence, the essential point is thinking about changes to a regulatory system that was originally designed for a system where fossil fuels and single-direction energy flows to inactive consumers were the mainstays of the system. CEER considers these changes in the framework of its '3D' strategy: digitalisation in the consumer interest; decarbonisation at least cost; and dynamic regulation: European solutions for adaptive regulation in a fast-changing world.
What this means concretely is European regulators coming together to find pathways that deliver the energy transition in a reliable, consumer-benefiting and least-cost way. Two prime examples of that are CEER's "Conclusions Paper on Dynamic Regulation to Enable Digitalisation of the Energy System", published 10 October 2019, and the ACER-CEER Joint Conclusions Paper "The Bridge beyond 2025" [on the gas sector in the context of decarbonisation] published on 19 November 2019.
What is the impact on European consumers?
In terms of digitalisation, there is the potential for an enormous value proposition for consumers, including cost savings (increased efficiency); convenience (e.g. smart homes); choice (e.g. different types of pricing models); participation (active as consumers and even prosumers); and quality and security of supply (e.g. digitalisation is necessary for reliability in the context of greater variable renewable penetration).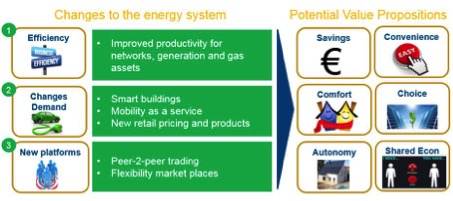 In terms of decarbonisation, gas has been a mainstay of millions of European consumers both in terms of electricity generation and heating, yet decarbonisation is imperative: regulators seek to square that circle by ensuring that the externalities of carbon emissions are paid by the polluter rather than foisted upon consumers in an unfair and inefficient manner. Regulators seek to create a level playing field so that the market delivers to consumers in the context of changes such as increased electrification, renewable/green gas, hydrogen, power-to-gas and other developments at least cost. This level playing field extends to gas vs. electricity storage and tariffs as well.
Regulators could have a more significant role in assessing Projects of Common Interest to ensure that grids are restructured to absorb an increased share of renewables and green gases such that they maximise benefit for consumers.
What have been important consumer issues for CEER for many years that we see now in the final Clean Energy Package?
Among the consumer-friendly provisions that CEER has supported for years that we now see in the Clean Energy for All Europeans Package (CEP), we can cite faster and free supplier switching; comparison tools (for choosing supplier) available for all; clearer and simpler electricity bills; interoperability for customer data; economic smart meter roll-out; facilitating dynamic price contracts; and appropriate rules for energy communities.
CEER published three case-study reports this year that look more closely at how these provisions have been and can be put into effect. The CEER "Report on Implementing Consumer Rights of the Clean Energy for All Europeans Package", published 7 August 2019, provides case studies to illustrate the relevant consumer protection rules, with respect to information requirements; on solutions for a standardised energy contract; illustrating billing-related issues; and finally, addressing how to make switching a supplier easier for customers.
A complementary CEER "Report on Implementing Technology that Benefits Consumers in the Clean Energy for All Europeans Package" of 22 July 2019 has case studies illustrating the lessons learnt regarding the implementation of a system for smart meter installations upon customer request; on dynamic price contract implementation; and finally illustrations of different types of data management approaches that are in line with the goals of the Clean Energy Package.
Finally, following the formal recognition of active consumers and the introduction of Citizen Energy Communities (CECs) and Renewable Energy Communities (RECs) in the CEP, CEER sought to analyse the regulatory implications of these new actors in its 25 June 2019 "Report on Regulatory Aspects of Self-Consumption and Energy Communities". This report develops a regulatory approach to analyse these developments in the energy market, based on several case studies submitted by NRAs. The report is both an overview of ongoing developments in the respective Member States and also addresses regulatory challenges at an early stage, to enable innovation whilst ensuring that consumers benefit from these new practices. In general CEER wants to ensure well-functioning retail markets.

How do regulators address the implementation of the new legal framework (CEP)?
European energy regulators have a plan of action to work together to better understand the provisions of the CEP and to work closely with Member States and the Agency for the Cooperation of Energy Regulators (ACER) to contribute to a successful implementation of the legislation. For CEER, this is part of what we understand by our third 'D': dynamic regulation, i.e. adapting regulation to market changes but also legislative changes while remaining predictable. CEER has focused its efforts in particular on provisions affecting consumers and distribution systems. This work includes close cooperation with the European Commission on clarifying specific articles, as well as enhancing our own knowledge on topics such as flexibility and use of storage in electricity systems.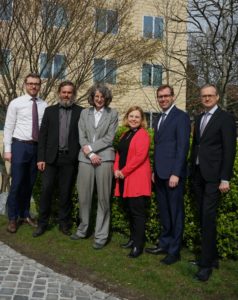 On the consumer side, on this topic, we are looking at demand-response and aggregation; on the network side, at network services and TSO-DSO cooperation. The role of DSOs is an important part of the CEP, just as the package was being completed in March 2019, CEER published a complementary "Paper on New Services and DSO Involvement". New services examined include storage; direct services to the consumer (everything from efficiency advice to operating electric vehicle charging); data management; and telecommunications and services outside of the energy sector. CEER is of the view that a market-centric approach for the facilitation of services should be used wherever possible, with DSOs acting as neutral market facilitators.
One of those direct services to consumers is flexibility services. CEER believes that DSOs should be involved mainly by procuring flexibility resources in the distribution system. CEER has an upcoming report on procurement of flexibility that will give insights on how flexibility procurement procedures could be arranged to reach an efficient outcome and how regulatory incentives are applied to DSOs to use flexibility. This report will look at some best practices to highlight to help with CEP implementation.
Overall, CEER looks forward to working with the European Institutions particularly the European Commission to do the hard technical and legal work to deliver the benefits of a better, more future-oriented and customer-centric marked-based energy system for all Europeans.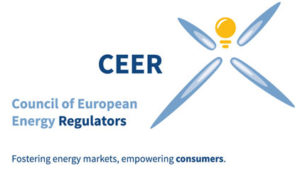 Charles Esser
Secrétaire Général
charles.esser@ceer.eu
Conseil des régulateurs européens de l'énergie (CEER)
Cours Saint-Michel 30a, Box F (5ème étage)
1040 Bruxelles, Belgique
www.ceer.eu