The 2022 Football World Cup will take place in Qatar!
Everything was said and criticized in Doha: the climate, corruption, human rights, the ecological footprint.
Sustainability is at the heart of planning for the 2022 World Cup. One of the eight stadiums is fully recyclable and removable, a first for a major sporting event. Other stadiums are constructed using modular components, which reduces the size of the capacity after the event. Qatar to donate 170,000 to 200,000 modular seats to countries requiring sports infrastructure following event. This leaves Qatar facilities suitable for use after 2022, while contributing to global sports development.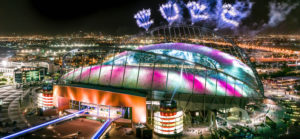 The Football World Cup will be held in Doha from November 21 to December 18, 2022.
It will be 20 degrees.
Qatar knows how to adapt by hearing criticism and will take advantage of the event to socially modernize the country. The International Labor Organization is already present in Doha, as are Amnesty International and Human Rights Watch. This was done in particular on workers' rights, with the abandonment of the kafala, this ancestral sponsorship system, as the multiplication of national conferences to set up the bits and pieces of a labor law, it should be remembered that this phenomenon has been non-existent throughout the region until now.
Regarding the corruption investigation related to the World Cup award, let justice be done. Since the beginning, Qatar has cooperated with the investigation conducted by Michaël Garcia by making all the files requested available to it.
We must put an end to sterile debates as quickly as possible:
We can no longer play with the Gulf by trying daily operations of permanent destabilization which could, if these countries are weakened, and we are talking about all of them, have such major consequences for us in terms of economy, energy and security.
The 2022 World Cup must be a moment of celebration, not a new open-front war. It is also the first World Cup in an Arab country. Football is unifying and unites peoples. Friendships will be formed, and people will have the opportunity to overcome stereotypes and improve cultural understandings.
Let us not deprive this region for too long in the turmoil of the possibility of pride, resilience, and success, esteem and renewed popularity.
Qatar is committed to making this World Cup a formidable vehicle for achieving its 2030 target over the years:
Qatar's National Vision 2030
The Journal Général de l'Europe is committed to follow the World Cup before, during and especially after 2022, in order to relay to the institutions, member countries and all Europeans the progress of challenges facing Qatar.
David DUBOIS
Director of the Journal Général de l'Europe