Qatar's Minister of Energy, H.E. Saad Sherida Al-Kaabi (also CEO of Qatar ENERGY), Patrick Pouyanné, TotalEnergies CEO and Equinor CEO Anders Opedal.
'' What are we talking about? Whatever produces it, our societies, our industries, need it: Electricity! '' explains Patrick Pouyanné, CEO of TotalEnergies, at the Doha Forum, together with Qatar's Minister of Energy, H.E. Saad Sherida Al-Kaabi (also CEO of Qatar ENERGY) and Equinor's CEO, Anders Opedal.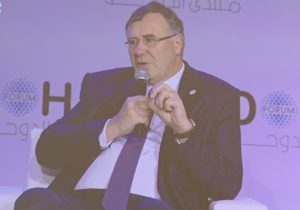 Mr Pouyanné, finally Patrick, as Hadley Gamble (CNBC reporter) calls him, who is moderating the debate, and as everyone or rather the greats of this world calls him, explains: All the energies that produce electricity are to be taken into account.
We can't switch from fuel to solar. Gas remains the essential transition energy for our transition through the CCS/CCUS," said H.E. John Kerry just before in the same room.
"The timing of such a transition will take 15 or 20 years"
Let us bet that the war in Ukraine and Russian gas is nothing to do with it.
However, if we were to do without Russian gas, obviously impossible today, Total Energies would have to leave Russia and it was impossible to invest too much in games. Moreover, an Elysian murmur asks him to continue his production in Siberia and to safeguard his investments (13 billion) instead of offering them to the Russian oligarchs", says Total Energies.
Total Energies could sell its facilities to them? at what price? or negotiate the sale price in gas? What would be 13 billion in gas? or maybe more than $13 billion.
A question to ask Total Energies, if it no longer buys oil from Russia from 2022 or 2023, where will they source it?
Mr Pouyanné resumes: The transition must be considered with all energies, I have warned the Politicians, the European leaders for some time. Implementing vertical policies by sectors (oil, gas, solar) is a mistake. We need a comprehensive policy, and gas remains an important part of that transition. Moreover centralizing gas purchases from Russia, with a low price policy was another mistake. If we are to do without Russian gas in the long run, we will have to accept to pay the price. We are a private company, it is up to governments to make consumers understand that the transition to a price."
Mr. Pouyanné, the head of a private company, questions me, but "at the same time" I listen to the Minister of Energy of Qatar, H.E. Saad Sherida Al-Kaabi, who is also CEO of Qatar ENERGY, specify that Qatar will be able to supply us with gas but not before 6 or 7 years by increasing its production because the current production is under contract for Asia. On the one hand, I have one minister boss and on the other a boss. I wonder: who privatized Total in his time? In fact, I understand that for some Producer Countries, refiners, marqueters, transporters or not, energy is a regal subject. I had proof of this one hour earlier when H.E. John Kerry, Special Envoy of the President of the United States for Climate and former Secretary of State, announced that the United States would deliver gas to us.
I move that we appoint Patrick Pouyanné as Minister of Energy, and I doubt he will accept that.
To his credit, he was not yet in charge when Total was privatized.
For information, Total reported 33 billion to the French government during its privatization, today TotalEnergie, it is about 150 billion turnover for a result of 23 billion. The state would have done as well, I don't know. But we can ask ourselves that question, but if we had an energy minister in our current situation, I would have liked it to be the CEO of TotalEnergie, whose head office is in France.
We understand the discourse of private companies or producer states, which clearly specify that an energy policy is put in place over the long term, 20-25 years minimum. But if energy policy is not a regalian, and it changes course with the elections and various cohabitations every 7 or 5 years, it is difficult to hold the distance. Yet privatizing our industries was rather advisable, the private will know how to invest to ensure development and competitiveness and bring revenues into the state coffers to repay the debt, finance the reforms and satisfy the voters (and again I doubt it). The fact remains that today we are going to pay the price for the detriments of our achievements.
Many experts and officials are informing us today that COP 21 is a bit far away, that we will not succeed, but that we can limit the damage.
We must have a clear approach on energy and the regalian for France, for Europe in order to ensure a great energy autonomy or even a strong sovereignty.
It is a pity, however, that the Ukrainian tragedy, which touches us all to the core, leads us to worry about what should be regalian or not in our European democracies.