Can you briefly introduce us to the department Innovation of GeoPost/DPDgroup?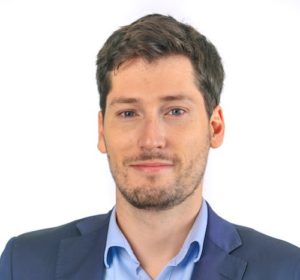 Thibault Guez (TG): GeoPost/DPDgroup is an international parcel delivery group with more than fifty subsidiaries worldwide. As the size of the group increases, the organisation is increasingly decentralised and we need to harmonise, standardise and animate our projects in a more central way. It is present in all our subsidiaries, most often close to the ground. On a number of topics there is a need for support in order to avoid duplicating the same initiatives on several subsidiaries. The crucial and strategic topics are led by central teams and this is the role of the innovation department of GeoPost/DPDgroup. We have three main categories of innovations that we promote within the group:
Innovations described as "new services", intended especially for consumers: they are related to consumer relationship, and will seek to improve the quality of services, to bring new functionalities, to develop new businesses connected or adjacent to our activities. This focus in on improving the consumer experience.
Operational innovations, often related to our industrial tool as such, within our hubs, our branches.
Innovations around Data, omnipresent in our activities. Innovations in this area are aimed at improving our operations (e.g., optimizing our tours), improving the customer experience (e.g., improving traceability), supporting our employees in their daily activities (e.g., decision support tools)
In general, our innovations serve our "Together & beyond" strategy, which aims to make GeoPost/DPDgroup the international reference in sustainable delivery and a leading enabler of the e-commerce acceleration. Our objectives include becoming an "Employer/Partner of Choice" to retain and attract the best talents.
How are innovation and data the core of a delivery company business?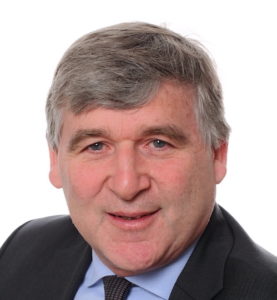 Hugues de Maussion (HdM): We are a «physical» company, we transport and deliver parcels but also data, at all stages of our process. The data is present at all levels of our activities, our operations, our exchanges with customers whether they are shippers or recipients. For example, routing optimization, visual recognition and artificial intelligence to automatically measure the weight-volume of the parcels we transport, parcel tracking returned to our customers, etc.
While many companies are asking themselves the question of digitalization, GeoPost/DPDgroup is fortunate to be at the heart of this dimension in several ways. Already because the company makes the link between the digital world, mainly e-commerce, and the physical world. Our job is to (re)materialize for the consumer a process initiated in the digital world: you order on the internet, and our delivery provider gives you your package. We are therefore fortunate to be at the heart of this ecosystem that is involved in this transformation between physics and digital. We are fortunate, by the very nature of our business, to have been confronted very early, to the very origins of our business, with this complex data management problem on a very large scale. For example, our tracking integration platform handles up to 4000 events per second. It is ultimately the multi-use of our data that allows us to provide service from the sending customer to the receiving customer.
This digital know-how is also at the service of our own internal operational processes that are increasingly driven by data on the basis of prioritisation, image recognition, recognition of algorithmic optimization models.
Data science and libraries equipped with artificial intelligence are mainly used to optimize our organization in a very precise way and help our employees, our delivery drivers in their decision-making to ensure an efficient service. For example, our delivery drivers have a small MDU (Mobile Device Unit), a kind of industrial phone that helps them make the right decisions to optimize their delivery route: what is the next delivery point, recommended route, identification of traffic jams, identification of a priority parcel, recipient information, etc. All this is carried by our information system.  As can be seen the information around a parcel has become vital for both making the best service to the customer and in the best economic conditions.
TG: Logistics isn't just about operations or algorithms ; developing products or services to support our employees and delivery partners is also at the heart of our innovation model (e.g., exoskeletons, portable drives, etc.). This is a key focus of our strategy through our "Employer / partner of choice" plan. Our innovation policy also aims to reduce the arduousness of work, to improve the safety of people and to improve the efficiency of our operations.
HdM: We deliver parcels to people, within a company or directly to an individual. The quality of service is therefore crucial and there are still many services to develop to better serve our end customers. Innovation, especially data, is a key lever to achieve this goal. I will mention three innovations directly related to the performance of our service.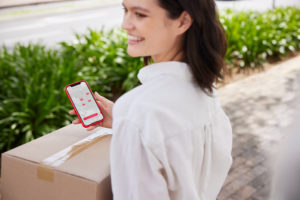 The first one, which is historical, is called "Predict". This service is based on sending to the consignee, on an active basis, the one-hour time slot during which the delivery will be made. It is an innovation that is an absolute win-win.  From the point of view of the recipient, he knows exactly what time it will be delivered and he can organize himself, the customer experience is greatly improved; on our side this prevents us from unsuccessful deliveries and thus allows us to reduce our delivery costs. Such a project can only be done on algorithmic models. The principle is quite simple, with the data we receive from our customers, an optimization engine determines the optimal tour and calculates precisely on which niche the parcel will be delivered according to a whole set of characteristics, the nature of the territory, of roads, …
It is the archetype of the use of data for a combined business model and customer experience.
The second example concerns the transportation of temperature-controlled food products on a national and international scale. Our group was the pioneer in its application to the mono-parcel world. Thanks to this know-how, we can guarantee the complete traceability (including the tracking of the temperature curve of the package throughout its journey) of a product collected for example on a farm and delivered to the recipient. The delivery of a parcel of this nature is also based on data, we use IOT sensors, with chips that continuously emit the temperature level. Every time a parcel is placed in this box the temperature associated with that parcel is known, when it passes through a sorting machine, when it changes trucks or warehouses, we have the temperature in real time. And we use these same technologies for food products but also for our medical division demanding the same traceability requirements.
Our first customer originally shipped his very good quality meat in polystyrene packages that cost a fortune and were not very environmentally friendly.  We offered our solution with our own reusable boxes associated with end-to-end cold chain management. Thanks to this service, he saved on his logistics costs and secured his cold chain. As we know how to deliver in D+1 national, it opened the national market to him while he worked almost only in local. We now offer this service internationally, the second subsidiary is in Belgium and we will extend it to European countries.
Another example of a service using data that sets us apart from the competition. It was one of the e-commerce sectors that did not yet have the right solutions and thanks to our innovation, a new field opened up for food e-commerce.
The third example of innovation developed by us is a chat-bot that allows to deal with conversation, text. Recipients speak up, usually because there is a problem or they are looking for their package. Thanks to our bot they get the desired information: artificial intelligence will question all information systems and restore the information in real time, 24/7. The customer can ask his question in natural language, "I would like to know where my package is", the chat-bot, soon to be called the Call-bot, will answer him by the voice "your package was delivered at such and such a time in such and such a relay point" and they avoid a much longer call to the call center.
Twenty countries are already using our solution.
Within the framework of the Digital Act and the AI Act, data is very important, what is your group's approach to data management and control? How is your group positioned and differentiated from Gafam (and Amazon)?
 HdM: GeoPost/DPDgroup is a large European company that is proud to promote European values. It is in Europe that the GDPR was invented, it is in Europe that many of these subjects of protection of individuals are carried with the greatest attention. We consider our customers' data to belong to our customers.
We are extremely vigilant on these principles. We consider that there is a European leg, that this system of «soft power» is a know-how based on respect for ethics and «fair trade». Our company is extremely attentive to the society in which we operate, live and which guarantees us long-term sustainability.
Thanks to new technologies, data today offers new perspectives not only for operational purposes but also for service. In this context, we are deeply committed to the principles of transparency, anonymization, non-intrusion and respect for privacy. This is a key issue and a key differentiator for us.
What are the major challenges for GeoPost/DPDgroup in the coming decade? Do you envisage the development of new sectors and services?
 TG: Our fundamental goal is to improve the quality of service and life where we operate. Logistics is deeply linked to environmental and social issues. Innovation will serve the common objective of improving logistics, in line with these challenges. This is a challenge as technology is not always mature and sometimes uncertain (e.g., decarbonization of long-haul transportation), investments are high and we are not alone, we need to play within an ecosystem.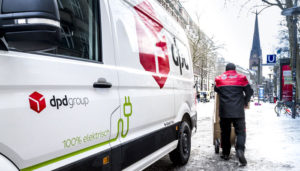 The decarbonization of our fleets is a real step in itself, but it is also a matter of adapting all the infrastructure that has been built around it and that involves a lot of stakeholders, whether they are public or private. That's the challenge for our sector over the next ten years.
We also want to be innovative at the societal level. That is our responsibility as a social actor but also as an employer. There is enough competition to attract talent, the workforce among the players, and even with other sectors. Being able to attract and retain our employees, as well as our partners, will be crucial.
HdM: the challenges in general for the next ten years lie in the fact that the company is doing well and experiencing a significant geographical expansion. GeoPost/DPDgroup is present on all continents and is also experiencing growth in certain vertical markets, such as food and health: ultimately, it is the challenges of a company that grows and expands.
The first is, of course, sustainability.
This is a major axis, at the heart of our «Together & Beyond» strategy. We were the first to equip cities like Paris entirely with low-emission vehicles. We have just implemented a new "Carbon Calculator" that calculates in real time the carbon emissions of our parcels throughout their journey.
GeoPost/DPDgroup also offers tools such as Oxatis, Woocommerce, Magento, Shopify, Prestashop, etc. Can we talk about new services?
 HdM: Rather, they are actors who facilitate e-commerce primarily for small and medium-sized e-commerce companies. We provide these platforms with connectors that enable companies to interface with us and benefit from our product routing solutions. Our group has a strong interest in SMEs, SMIs and small e-merchants. Supporting local trade is fully in line with our objectives.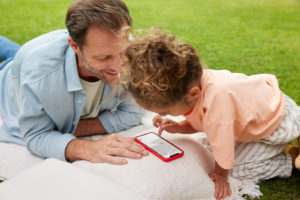 Our ambition is to become a leading enablerfor e-commerce and thus to integrate into the digital eco-systems of our market
Finally, a more direct view of the challenges over the next ten years brings us to added value. Not being just carriers down the value chain, offering more value-added services. Technology giants are present at different links in the chain, which is why we have invested in technology so that our platforms can also serve as federators and aggregators.
About DPDgroup
DPDgroup is one of the world leading parcel delivery networks, aiming to be a reference in sustainable delivery and become a leading enabler of e-commerce acceleration.
We combine innovative technology and local knowledge to provide a flexible and user-friendly service for both shippers and shoppers.
With 120,000 delivery experts operating in nearly 50 countries, and a network of 70,000 Pickup points, we deliver 8.4 million parcels worldwide each day – 2.1 billion parcels per year – through the brands DPD, Chronopost, SEUR, BRT and Jadlog.
DPDgroup is the parcel delivery network of GeoPost. GeoPost posted sales of €14.7 billion in 2021. GeoPost is a holding company owned by La Poste group.
For more information
To stay up-to-date with DPDgroup's latest news, follow DPDgroup on www.dpdgroup.com,
Twitter, LinkedIn and Instagram