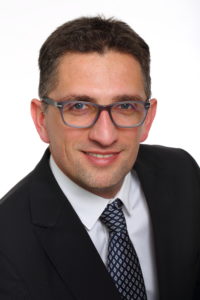 JGDE: With this COVID crisis, we are seeing a resurgence in e-commerce. In densely populated cities, but also in the provinces, home deliveries have developed significantly. How does DPDgroup GeoPost go about being a responsible carrier and reducing the environmental impact in cities?
 Dominique Mamcarz (DM): I would like to highlight a few points. DPDgroup GeoPost has implemented a decarbonisation strategy (carbon neutrality objective) since 2012. We are committed to an approach based on 3 fundamental principles:
– Measuring our footprint
– Reducing our CO2 and polluting emissions as much as possible
– Offsetting these emissions via the voluntary market, as we are not in a regulated market, so it is a matter of "voluntary" offsetting of our emissions, so this gives us a carbon neutral status since 2012. This is an important point that makes DPDgroup GeoPost and LA POSTE Group the leader in the European market for voluntary carbon offsetting.
The main pillar is the reduction of our carbon impact and of local pollutants in the city, as we are talking about public health. In this context, we have initiated a voluntary decarbonisation policy based on a few key principles:
– The daily optimisation of our delivery rounds and our loading rates, which in essence gives a real virtue to parcel transport networks since we are not going to travel on rounds for a single parcel but for a group of parcels and thus reduce the environmental impact of a parcel, so this is a first aspect: consolidation / massification
– The change in the way we deliver to cities. We want to put low emission vehicles on the road, I say low emission on purpose or I could say zero emission to make the difference. Indeed, a vehicle will always have emissions over its entire life cycle, and if we consider the impact in the city, it is important to look at the impact at the tailpipe. This will allow us to reduce the impact of pollutants in the city and reduce our emissions in the city as a whole. In 2020, we committed ourselves to covering 225 cities by 2025 with low-emission vehicles, which means both the massive introduction of electric vehicles, small delivery vehicles, or vans, or at least electric utility vehicles. This also involves micro-logistics with means such as cargo bikes, bicycles and even deliveries on foot. We are trying to use a whole range of delivery solutions that will allow us to avoid emissions. This "225 cities" plan includes all these technologies and also natural gas technology, which is a minority in the deployment plan, but which meets the need to have enough autonomy to carry out certain urban and suburban rounds. It is a set of solutions that will meet specific needs in the urban environment.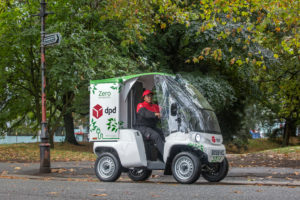 JGDE: Today, in 2021-2022, where do you stand on this objective for 2025?
DM: Out of 225 cities in the Plan, we have so far initiated two thirds of the cities. Already initiated, in the sense that we have already started to put in place alternative vehicles, as you have understood, our "225 Cities" plan is not just about deploying two/three/four vehicles.
The city is a subject that can be discussed. What is the city? What is the city's perimeter?
Each DPDgroup Geopost division has defined what it means by the city perimeter, city centre or, more broadly, exclusively concerned with medium or low emission vehicles. Today, we have two-thirds of the cities initiated and 44 cities completed, i.e. finished in terms of the deployment of alternative vehicles. That is a little over 400 alternative vehicles in total, electric vehicles, natural gas and other technologies, … but the vast majority are electric vehicles, around 80%.
This represents about 200 electric charging points. Today, introducing electric vehicles also means putting in place all the electrical infrastructure necessary to ensure the operations of these vehicles.
JGDE: As far as these charging stations are concerned, you have a completely autonomous network managed by DPDGroup GeoPost?
DM: The governance of DPDgroup GeoPost is decentralised. As a group structure, we are there to propose solutions to our subsidiaries, but it is ultimately the subsidiaries that decide on the action to be implemented because they have the knowledge of the local market and because they have this autonomy to ensure the best efficiency. Why am I telling you this, quite simply because we have differences in strategy between some of our subsidiaries in France. For example, our subsidiary Chronopost was the first subsidiary to get its feet wet on this subject with Paris, the first city equipped with low-emission vehicles. I'm talking about the 20 Parisian districts, the first city in the group in October 2019 with more than 230 rounds and nearly 25,000 parcels delivered daily in alternative vehicles. Chronopost decided to invest in recharging stations directly on its operating sites, on its depots outside the city and even on its urban depots. It was truly a corporate decision to invest massively in a set of recharging points on our own dedicated sites.
In contrast, some subsidiaries have chosen other strategies by relying on public recharging networks. Of course, they have precise knowledge of the network in order to pass on information to the people who manage the vehicles, whether they are employees or transport partners, which is a second opportunity.
The third opportunity is to try to participate in the financing for some of our partners by acquiring a recharging point at their home.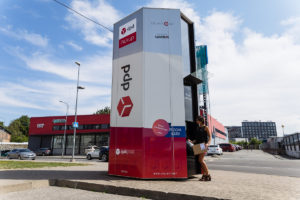 JGDE: You mean at the home of the delivery person?
DM: Yes, at the home of the delivery person or at the home of the company that we commission to deliver our parcels. So we are really trying to adopt all these solutions because today the distribution network or charging point network, as you can imagine, is very inadequate, even though we know that today this is very clearly one of the objectives of the European legislation, of Fit for 55.
JGDE: And France is strongly committed to the subject by supporting the implementation of real regulations.
DM: Exactly, in the Fit for 55, the objective is 3.5 million recharging points by 2030 for cars and vans. So we support this revision of the directive, we are necessarily waiting for a more dense public network, but we will go beyond that because, as you have understood, we will also invest in our sites and we will also use installation solutions at our own delivery sites.
JGDE: Do you have any plans to play a greater role in the 'last mile'?
DM: Let's talk about urban infrastructure. It seems important to specify that our mission is also to take a place in the city with urban micro-depots that will also be advanced bridgeheads, advanced bases of our operations, it's really important to specify that. This will be one of the elements necessary for a good network of the territory. The transporters have been placed outside the city, outside the city, and it's difficult to return to them when you see the price of land. Our objective is to return to urban locations with urban micro-depots to start the last and first kilometer from these points. In addition, DPDGroup GeoPost's ambition, based on a good network, is to organise out-of-home delivery. We are talking in particular about our 'Pick-up' points, relay points which can be shops or also automatic machines, parcel lockers. We are counting heavily on a set of delivery solutions that will allow us to reduce our environmental footprint, since they will allow us to massify the parcels in a shop, automatic machines or urban depots, and also to be very practical and convenient. We are convinced that this is a set of solutions that will be necessary for parcel delivery, particularly for private individuals. This is why the group is working to deploy more than 100,000 points via its Pick-up network by 2025, 70% via partnerships in shops and physical Pick-up points, and 30% of them in lockers, intelligent consignments. We want to ensure that the first delivery is made and that there is no return, to guarantee that there is no second delivery.
JGDE: What does the second delivery represent in figures? What is the cost?
DM: We have studied the environmental impact of a standard delivery to a home using a service called "Predict" which allows interaction with the recipient. We know that if the recipient receives a notification by email or sms before the delivery and is able to say "look, don't deliver to me in this time slot, deliver to me an hour before or deliver to a ParcelShop", we reduce the last mile CO2 impact by 5%; this famous Predict notification enables a better delivery rate the first time. We now have evidence that interaction, information and digital flows also allow for better CO2 efficiency.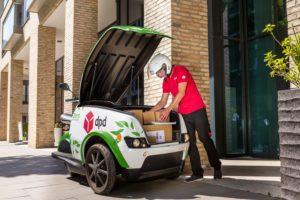 JGDE: In this approach to infrastructure in the city center, in the area that you have defined as the city center, you are in the best position to identify all the journeys to be made because you make many more than anyone else. Is it DPDgroup GeoPost's policy to set up this type of infrastructure with the local authority through public-private partnerships?
DM: Yes, it is completely within our policy. We will try all available solutions, in France we are part of the La Poste group which has a very close relationship with the urban areas and authorities. In this case, there is now a desire to cooperate with 22 major European cities and to set up partnership agreements on these subjects. This is an approach that is encouraged within DPDgroup GeoPost but also more globally at the level of La Poste Group. In this respect, we are in the process of building projects where the local authority will be able to facilitate the implementation of recharging solutions for operators such as the La Poste group and its subsidiaries, but also for other operators. This is already the case in France, and to some extent in Europe, even if for the moment at European level we are also trying to find specific solutions with private energy distribution network operators who can also propose their own solutions.
JGDE: Setting up recharging networks could be a new business for DPDgroup GeoPost? Do you envisage a complementary activity or a possible business model on the energy market, purchase and resale?
DM: Energy supplier no.
JGDE: Network or infrastructure provider? In partnership?
DM: It is above all as an operator and contributor to an ecosystem that we are positioning ourselves today. We don't have an offer, or a project for an offer on these subjects. We are simply trying to guarantee access to energy in a sustainable way, particularly electric energy to ensure our operations via electric vehicles.
So this also involves more and more self-production and photovoltaic energy from our buildings. All our buildings, whether large hubs or the latest ones built, are equipped with photovoltaic panels to produce part of the energy we need. Energy autonomy is the primary need.
With regard to partnerships with cities, I mentioned the holistic decarbonised part, the objective by 2025 which is to reduce our CO2 emissions by 30% compared to 2013. We are on the right track since we are two thirds of the way there with almost 19% reduction of CO2 per parcel, in a context of strong growth in volumes since volumes have increased by 40% between 2019 and 2020 at the DPDgroup GeoPost level.
The idea now is to go further and further, as we are aware of the climate emergency. DPDgroup GeoPost wants to be a leader in the transport sector, the international reference for sustainable parcel delivery. We are therefore working towards a greater ambition that is in line with scientific knowledge, such as the 'Science Based Target' initiative.
JGDE: You say that we need to move faster, we can see that COP26 was not what we expected, but companies have a lot of ambition in this area. The deployment of electric vehicles in cities, the good development of infrastructures, if cities mobilise and play their role as facilitators, we can say that it is manageable. Are there any real obstacles at DPDgroup Geopost? Are there sectors or parts of your business that are still very complicated?
DM: Yes, absolutely, we can call them obstacles or challenges. One of the first elements of the context that I mentioned a few minutes ago which does not make things easier, or which makes things even more complicated, is strong growth. When you are faced with a strong growth in volumes, essentially in BtoC volumes, destined for consumers, the private sector, individuals, inevitably more parcels, more vehicles to put on the road, more depots which must be able to handle this massive influx, more delivery personnel, etc. It's a case of "more, more, more". In this context of growth, how can we stabilise or even reduce our carbon footprint when we are growing so much? It's a cyclical trend, that's the first point.
Then, we realise that overall, electric vehicles, or at least today's alternative vehicles, will be in a few years – 3, 4, 5 years maximum – equivalent in terms of Total Cost of Ownership (global operational cost), or even allow savings to be made compared to a combustion vehicle. For small vehicles dedicated to the last few kilometers, I would say that we feel that we are reaching a turning point, the question will hardly arise.
Finally, we also make a lot of inter-country and inter-city connections to transport a parcel from point A to point B or from one country to another. This concerns an important part of our activity, namely our long-distance transport, from hub to hub. We're not talking about the last few kilometers, we're talking about long-distance links, and DPD is primarily a road haulier.
On these long-distance routes we do not have mature technologies that guarantee sufficient autonomy for journeys of 500 kilometers or more in a given proportion. There are certain offers on the market, I'm thinking of green hydrogen, I'm thinking of electric trucks, but they are currently offered at quite high prices, three times the price of a classic truck, with autonomies that are not necessarily yet at the standard we would like, i.e. 400/500 kilometers, we are well below that. So we are dealing with emerging technologies. For a network like ours, whose carbon footprint is essentially based on this subject, long-distance transport represents more than 50% of our emissions, the message is clear, our fight in terms of decarbonisation is there!
It is up to us to implement an ambitious plan today by making a certain number of technological bets. This is the stage we're at, and we can see that there are technologies that are emerging, such as hydrogen electricity, gas, bio-gas, with a certain number of additional constraints, and perhaps alternative fuel. This is all the work that we are in the process of carrying out, and it is currently the major obstacle: to come up with a main plan that integrates the decarbonisation of long-distance transport and that will allow us, as well as all the transport and major networks like ours, to be able to fit in a little more easily with the European and global decarbonisation objectives.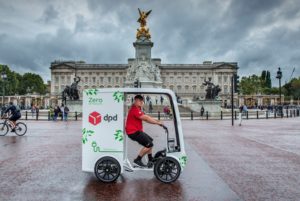 JGDE: Your policy is not to pass on the cost to the consumer, which is really to your credit. But if the technology is still expensive, and you are very dependent on that, the company cannot buy three times what it used to cost once. Your margins are going to decrease considerably, I imagine that your shareholders hear you, but knowing that road transport is a major part of your activity, it will perhaps be necessary to decide with the shareholders to say OK, we'll go ahead anyway, we'll reduce our margins now to increase them tomorrow. How do you project yourself in this context?
DM: You are also touching on an essential element of the equation, that's exactly it. You reminded us of the pincer effect we have to deal with, between the acceptance of a consumer who orders a parcel on the web to pay part of the price of transport, today we know that acceptability is relative, and at the same time the increase in investments for us to be able to reach the level of decarbonisation expected by these same consumers. 70% of them think that it is the responsibility of large companies to act on the environmental issue. We find ourselves in a somewhat paradoxical situation and for us it is important to take strategic decisions.  We have seen the relative success of COP 26, and this further reinforces the importance of business action on the subject of decarbonisation. On this point we have already demonstrated it with the "225 cities" plan, our approach is very voluntary, nothing forced us to do it, it is a monumental investment of 200 million euros, 200 million euros is the additional global budget compared to "business as usual". The company decided to be proactive and to invest more.
The other subject I wanted to discuss with you is that we are part of a supply chain, of which we are the last link, since above that there are our customers who have their own suppliers.
JGDE: This notion of supply chain is very interesting. Independently of your own objective, you are part of a whole professional value chain and you are subject to its impact and a certain number of pressures.
DM: We realise today that the lower you are in the supply chain, the more complicated it is to decarbonise. For the transport and logistics sector, the cost of decarbonisation is undoubtedly the most important compared to certain supply chains a little further upstream. We are in a collaborative or co-construction process with some of our customers, who are interested in reducing our impact because we contribute to their own impact. We are their Scope 3, so they firmly ask us, sometimes via contractual clauses, to decarbonise our operations. We are proactive in the sense that we want to work with them but we don't necessarily feel we have all the answers within the company.
We have carried out several projects, particularly on long-distance transport. At the beginning of 2021, we asked for an electric truck in Switzerland to make a daily connection between two depots to show that it was possible to deliver by electric truck, that this technology was reliable and promising in terms of increased autonomy. We worked with FUTURICUM, a Swiss company, another partner CONTINENTAL for the tyre part, and we wanted to associate a client, or at least a partner, who is L'OREAL, with this project.
We also showed the market the direction to take, and we were able to prove the effectiveness of our solution because we broke the Guinness record for the longest distance covered by an electric truck on a single charge, in this case almost 1100 kilometers. This test was carried out under specific conditions, on a circuit in Germany.
JGDE: What are your international ambitions? 
DM: Today, we can say that DPDgroup Geopost has strong ambitions in terms of growth outside Europe.
JGDE: Aren't you doing some external growth in the United States?
DM: We are in the process of acquiring and expanding internationally and it will indeed be key to integrate due diligence from day one, elements of sustainability in the selection and in the relationship that we will establish with this new member of the family to ensure that our European policy is duplicated or otherwise adapted within the international subsidiaries.
JGDE: What are the market trends?
DM: We look very carefully at what is happening in the market, we conduct our own studies as well, and monitor our ad hoc indicators every year. They give us insights into what we think is going on. In addition, e-choppers expect more responsibility from e-merchant sites and also from the players in the transport sector. I quoted the figure of 69% of e-shoppers who think that companies should adopt a responsible approach to the environment, that's a first fact, and with that 65% of these regular e-shoppers say that they would be more inclined to order from an e-commerce platform if it offered responsible transport solutions.
About DPDgroup
DPDgroup is the largest parcel delivery network in Europe.
We combine innovative technology and local knowledge to provide a flexible and user-friendly service for both shippers and shoppers. With our industry-leading Predict service, we are setting a new standard for convenience by keeping our customers in close contact with their delivery.
With 97,000 delivery experts and a network of more than 58,000 Pickup points, we deliver 7.5 million parcels each day – 1.9 billion parcels per year – through the brands DPD, Chronopost, SEUR and BRT.
At DPDgroup we aim to be a reference in sustainable delivery and become a leading enabler of e-commerce acceleration.
DPDgroup is the parcel delivery network of GeoPost, which posted sales of €11 billion in 2020. GeoPost is a holding company owned by Le Groupe La Poste.
For more information