The FCH JU (Fuel Cells and Hydrogen Joint Undertaking) public-private partnership between industry, research and the European Commission has pioneered new developments in fuel cell and hydrogen (FCH) technology over the past decade. Now, with applications ranging from transport to energy storage on the cusp of commercialisation across Europe, and 'green' hydrogen, produced from renewable energy, showing huge potential for reducing greenhouse gas (GHG) emissions, it's looking like hydrogen could become an integral part of local and regional authorities' decarbonisation plans.
Hydrogen mobility
With the transport sector reliant on oil for 94% of its energy needs, decarbonisation is a big challenge in the only major sector where emissions today are well above 1990 levels. Low carbon transport is being addressed by many of the FCH JU-funded projects, amongst which is H2ME, an ambitious European-scale field demonstration of the reliability of hydrogen vehicles.
Co-funded by the FCH JU (EUR 67 million out of EUR 167 million total cost), from the EU's research and innovation programme H2020, H2ME is bringing the benefits of hydrogen energy closer to citizens, by adding 49 new hydrogen refuelling stations across ten countries. As part of the project, more than 1400 private and commercial fuel cell electric vehicles (FCEVs) – cars and vans – and range-extender vehicles that can refuel with both electricity and hydrogen are being put on the road. FCEVs have range and refuelling times comparable to that of conventional internal combustion engine cars, but with the advantages of greatly reduced noise and air pollution.
H2ME project manager Lisa Ruf sees regions and cities as the primary actors when it comes to attracting investment from the hydrogen industry. She says: "The best way for local authorities to encourage investment is by showing their willingness to support deployment: not just financially, but by putting in place a local/regional plan and a platform for exchange between local stakeholders."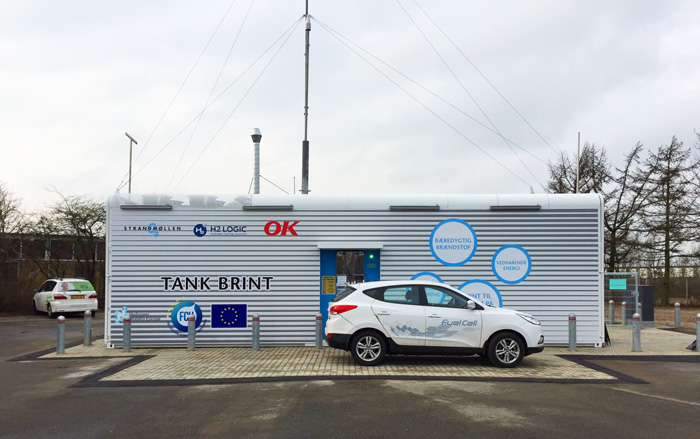 Green hydrogen potential
Already, using conventional hydrogen to power cars results in 20% less GHG emissions than the equivalent internal combustion engine vehicles. However, using 'green' hydrogen, produced with renewable power, results in zero emissions transport. Green hydrogen also offers a storage solution for excess electricity generated by intermittent renewable energy sources such as solar and wind power.
With more renewable power generation, market demand for energy storage is expanding rapidly. The FCH JU has already started to allocate considerable resources to the refinement of the electrolysis process used to produce hydrogen. Thirty of the FCH JU's 43 hydrogen-production projects support the development of electrolysers for energy applications in order to unlock the vast potential of green hydrogen for decarbonising not only transport, but also industry and heating sectors, thereby contributing to the EU's 2016 Clean Energy Package and its targets on energy storage and sectoral integration.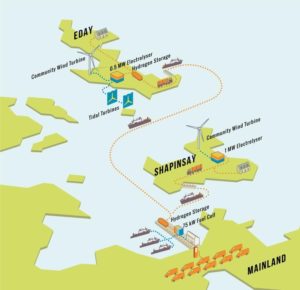 Energy transition in action: UK, Belgium, Denmark, Italy
Harnessing these different applications of fuel cell and hydrogen technology, the FCH JU-funded (EUR 5 million out of EUR 7.25 million) BIG HIT project on the Orkney Islands explores the creation of a replicable hydrogen territory. By converting excess renewable electricity into hydrogen for use in both stationary applications for heating buildings, and in the transport sector in a small fleet of vans, it will be a world-first demonstration of a fully integrated model of hydrogen production, storage, transportation and utilisation: a complete energy system for these remote islands.
Another recently finished project supported by the FCH JU, Don Quichote, tested the commercial viability of an integrated hydrogen storage system and refuelling facility in Belgium, using wind and solar energy to generate hydrogen – fuelling material handling vehicles (forklifts) in a warehouse/supermarket environment as well as FCEVs.
The HyBalance project in Denmark (EUR 8 million from FCH JU out of EUR 15 million total) is accelerating the development of a clean transportation network by producing hydrogen from renewables to be supplied to light industry and 60 FCEVs.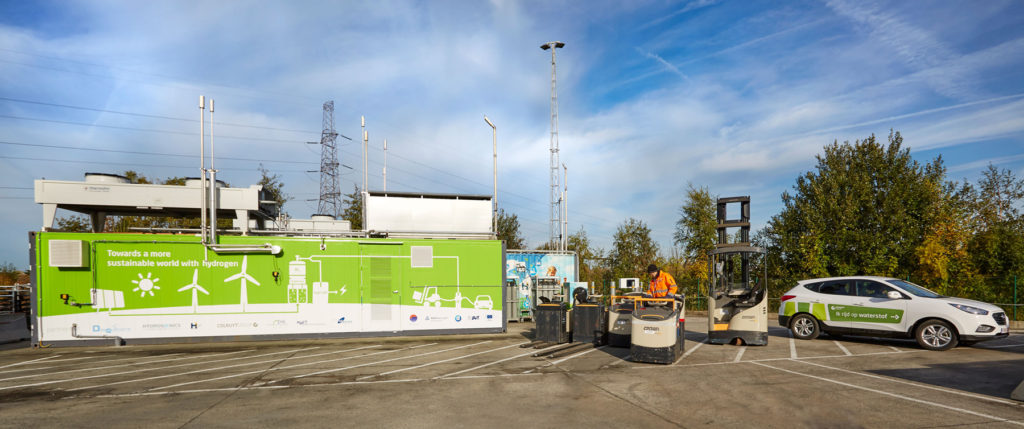 DEMOSOFC (EUR 4.2 million from FCH JU of EUR 5.9 million total) has trialled a biogas fuel cell plant converting biogas from waste water treatment process to electrical and thermal power with zero emissions, with exciting replication potential: the project has estimated that 90% of the waste water treatment plants in Europe, or more than 26,889 sites, could use the same technology, thereby generating new energy from a by-product of the waste water purification line.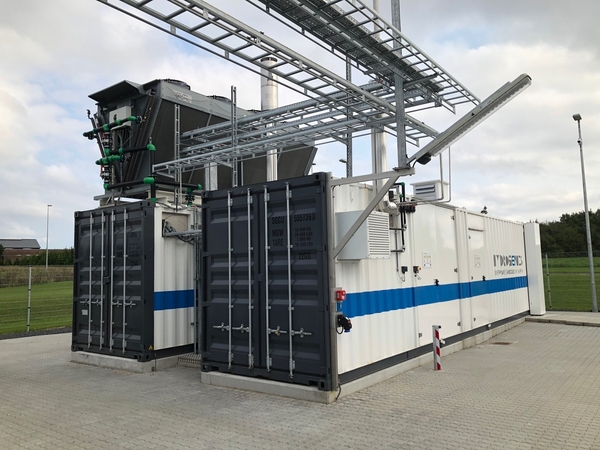 Reaching out to regional authorities and cities
The recent agreement reached on Energy Union governance emphasizes local governments' role in the energy transition, with local and regional authorities contributing to the national energy and climate plans for 2030.
Since 2017 the FCH JU has been working with 90 public authorities at municipal and regional level, which together represent about a quarter of the European population and GDP to foster the uptake of FCH technologies by local and regional authorities, the FCH JU has set up a platform to exchange up-to-date information on the technology, and has also carried out a study which forecasts that up to EUR 1.8 billion will be invested in fuel cell and hydrogen deployment projects from the public and private sectors over the next five years.
The newest FCH JU study: "Fuel Cells and Hydrogen for Green Energy in European Cities and Regions", shows among others that:
European regions and cities need to take action now to realise their emission reduction targets and improve local air quality.
Investing in fuel cell and hydrogen technology pays off for cities and regions, as it provides a mature, safe and competitive zero-emission solution for all their energy needs.
Regions and cities can benefit from investing in hydrogen and fuel cells not only in environmental terms, but also by stimulating local economic growth and creating attractive places to live, work and visit.
The Regions and Cities Initiative provides a unique opportunity to benefit from existing knowledge, draw on project development support and financing assistance to realise own FCH deployment projects.
To enable the realisation of the envisaged FCH deployment plans of the regions and cities continued support will be required for individual projects as well as the coalition at large.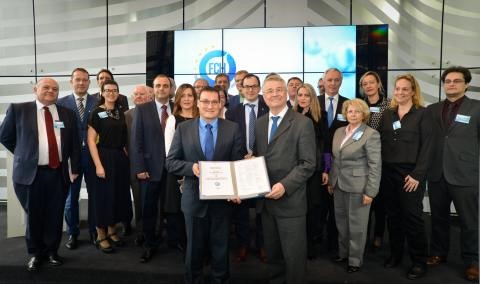 Want to find out more? Check out FCH JU's initiative for local and regional authorities.