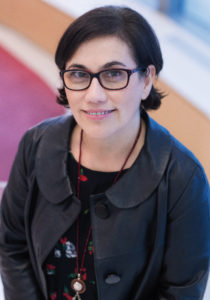 ENGIE is changing its activity and wants to be a leader in energy efficiency and renewable energy, what is its strategy, what sectors are targeted and what are its assets to succeed?
ENGIE is at the forefront of the energy revolution to accelerate the advent of an energy system where energy will be decentralized, decarbonised and digitalized and where renewable energies will have a predominant role. We believe that renewable hydrogen, produced by electrolysis of water, can accelerate the massive deployment of intermittent renewables, because it allows the storage of renewable energies in large quantities and over a long period of time. It helps to ensure that the sun shines at night. It is the missing link to a 100% carbon-free energy system.
The share of renewable energies in the global energy mix will continue to increase. Energy systems will rely more on intermittent sources of energy: the production profile of these energies varies, is sporadic and impossible to predict. In addition, areas rich in renewable resources, whose production potential will have to be maximized, will sometimes be remote from consumption areas. Energy systems need to be thought out again to ensure security of supply at the best cost. This means we must be able to massively store the carbon-free energy (in particular to cover seasonal needs but also to provide flexibility solutions to increasingly unstable energy systems) as well as to transport it from the production sites to the consumption areas. To date, electric batteries are able to cope with short –term needs, but do not cover seasonal modulation: how to use the solar energy produced during Summer time to cover the demand over Winter? how to deal with situations where intermittent renewables are unable to produce power for several days? Renewable hydrogen is part of the solution.
Beyond storage, hydrogen is a multipurpose energy vector. It can be used in different forms. It is used as a feedstock in industrial processes, it can also be injected into gas networks. It can also be reconverted into electricity via fuel cells and has turbines, serve as fuel for vehicles, offer solutions (cold and heat) for the thermal needs of buildings.
ENGIE's vision is a future based on a renewable multi-energy mix (biogas, solar, wind, hydraulic …) made possible by renewable hydrogen, which allows:
To store energy and restore it (in the form of gas or electricity) when renewables do not produce (hydrogen offers long-term storage solutions, compared with electric batteries more suitable for short-term storage ).
To develop a more sustainable mobility, zero-emission (100% without particles nor CO2) in addition to all-electric mobility solutions, especially for intensive use, long distances or heavy vehicles (buses, taxis, carts, trains, etc.), for which charging time of vehicles and range are key.
To decarbonise the industrial uses which require hydrogen in their processes (fertilizer, refinery, chemicals, etc.). Today, we consume around 60 million tonnes of hydrogen per year worldwide. This hydrogen is essentially produced by steam reforming of natural gas. This process generates about 10 kg of CO2 per 1 kg of hydrogen produced.
As a result, renewable hydrogen can decarbonise all the segments that contribute to greenhouse gas emissions: power generation, mobility, and industrial processes.
According to a study performed by Mc Kinsey at the request of the Hydrogen Council, the size of the Hydrogen market is expected to increase by a factor of 10 by 2050. By this time hydrogen is expected to reach around 20 % of the final energy demand. It should help reduce CO2 emissions by 6 Gt/y. As such, Renewable hydrogen will make an important contribution to achieving the Paris Agreement's goals of keeping global warming below 2 ° C.
You have been managing the ENGIE's Hydrogen BU for a few months now. Can you present your Division, its structure, its playground, its missions and competences?
We have the ambition to be a key player in renewable energies. For over 20 years, ENGIE has been researching this field. We have already developed several demonstrators and have several projects underway within the group. We launched in Rungis the largest hydrogen utility fleet in France in parallel of an alternative multi-fuel station, to allow, among other things, the refueling of our Kangoo cars, hybrid electric hydrogen vehicles developed by SYMBIO, a company of which we are shareholders together with Michelin.
The GRHYD project in Dunkerque tests the production of hydrogen from renewable electricity, its injection in the natural gas distribution network and the production of hythane (a mixture of hydrogen and natural gas) for the GNV buses of the Urban Community.
Regarding off-grid system, the island of Semakau off Singapore has become a real-size laboratory for the deployment of a self-sufficient energy network, a multi-energy microgrid. This project is the world's largest microgrid demonstrator by its production of hydrogen by electrolysis of water, by its storage of hybrid energies with batteries and hydrogen, by the size of its fuel cells to deliver power and by its hydrogen refueling station in for mobility.
It is this conviction that led us a few months ago to create a global business unit dedicated to renewable hydrogen. ENGIE has the ambition to become a major player in renewable hydrogen, with a global presence and across the whole value chain. We rely on the expertise and skills of all Group's teams. The vocation of the newly created business unit (BU) is to develop large-scale projects with complementary partners.
We are targeting first areas with high renewable potential, where the group already has a strong local anchorage. We proceed step by step by developing phased large-scale projects in order to integrate the best technological developments and designs as we go along, at the best cost. This new business unit operates in a start-up mode, meaning notably based on an intrapreuneurial spirit completed by an agile approach.
What are the levels of performance, storage and diversity of use of this energy? what are the challenges of green production?
I think that the technical stakes are threefold: to address the design of global installation which must combine several elementary bricks (renewables, electrolysis, storage and transport), by optimizing them, to continue to increase the performances of each equipment throughout the chain of production. And last, the industrialization of technologies (of which the electrolyser) that are today manufactured at a smaller scale.
In addition, the development of hydrogen storage technologies is key to massively develop hydrogen. It can be stored compressed, in liquid form or combined with hydrogen-capturing elements such as hydrides or organic compounds. The works and developments are numerous and very promising. It will possible to transport hydrogen over long distances (between countries) and to store it massively to manage energy inter-seasonality issues.
However, this sector is not totally competitive at present compared to CO2 emitting solutions. It is necessary to reduce the production costs of hydrogen by electrolysis and storage costs in order to make it competitive. This requires the development of large scale solutions. Size matters to lower production costs.
It should also involve putting in place innovative public and private partnerships. The industry needs to be accompanied in its early years. There are few devices in place to accelerate the development of renewable hydrogen. However, California can be cited for its commitment to an ambitious carbon free plan aiming for 100% renewable electricity by 2045.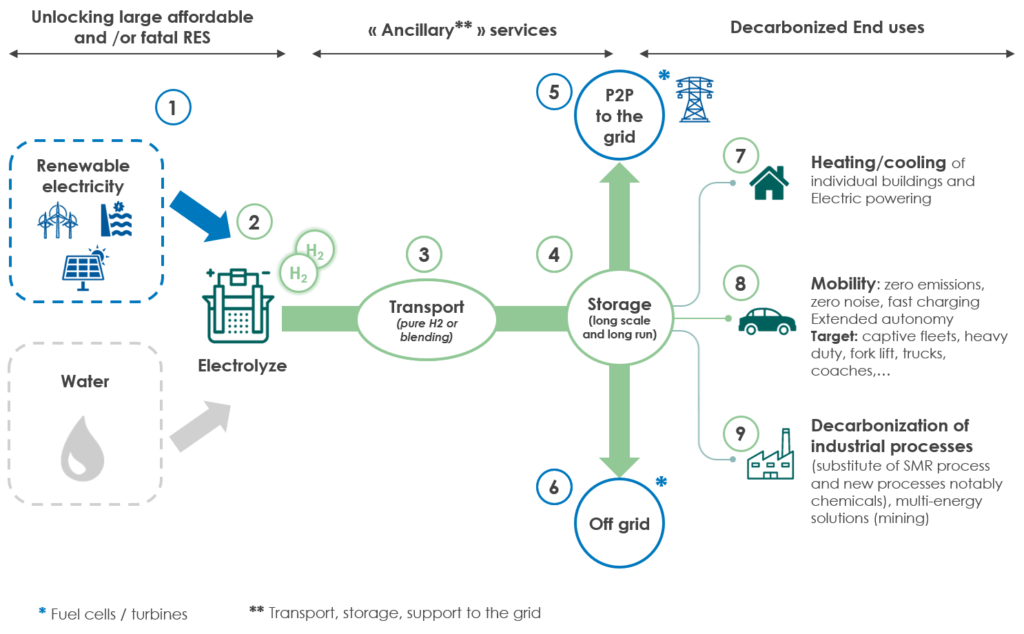 You are betting, in order to perpetuate the development of hydrogen, to ensure all the links in the chain: from production to distribution and consumption. How to meet such a challenge?
ENGIE is the leader in renewable energies in France and has all the competencies across the gas and electricity value chain (production, storage, transport and distribution). Green hydrogen entails knowing how to work on electricity, gas and storage and we know how to do all that.
However, to further develop the hydrogen market we must lower production costs to improve the competitiveness of this energy vector, namely by industrializing the manufacturing of equipment such as electrolysers (at the heart of the hydrogen chain) and which are getting bigger and bigger. This is in line with the production of solar energy, whose costs have dropped by 80% in 10 years.
Japan announced a "2020 Olympics dedicated to hydrogen ." What should be the positioning of France and Europe on this?
Japan has announced that it will use the Olympic Games as a unique opportunity to advance, promote the use of hydrogen. Paris 2024 will capitalize on the Japanese experience, just as Los Angeles in 2028 will capitalize on all the previous ones. The idea is to go further each time.
Paris 2024 will offer the most sustainable Games in history, a resolutely sustainable and responsible offer in line with the Paris Agreement and where renewable hydrogen will have its place in the scheme. Moreover, it should be noted that ENGIE was partner of the Paris bid for the organization of these Olympic Games, a partnership formalized around the theme of "Sharing the energy revolution," a theme in line with ENGIE's commitment to energy transition.
With the European elections on our doorstep, in a context of energy revolution and in order to convey a message to citizens, what range of possibilities in using hydrogen for domestic purpose?
More than a billion people in the world do not have access to electricity, 2.3 billion people do not have access to energy. Without energy, health, education, food security, economic development, mobility and employment cannot be fully implemented. The supply of energy through hydrogen would allow to reduce these disparities and would give all these regions access to what's essential in life.
As far as mobility is concerned, green hydrogen has a role to play. Our transportation systems are 95% oil dependent and the sector is responsible for 23% of CO2 emissions worldwide. With the growth of urbanization by 2050, 2/3 of us will live in the city, car transport will be multiplied by 2. We can design green mobility solutions that respond to changing usage patterns and that are zero-emissions (neither pollutant nor noise).
In the end, renewable hydrogen will make it possible to develop decarbonised energy systems contributing to the development of territories, local circular economies benefiting local communities: energy, water (by desalination of seawater), employment. Renewable energies are a common good and technological innovation allows for a more harmonious progress.