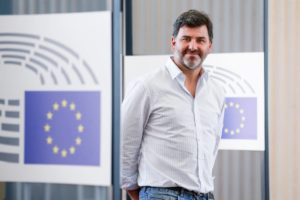 MEPs are divided over European Commission proposals calling gas and nuclear energy "green"
EU MPs are reacting swiftly to controversial plans to promote nuclear and gas as environmentally sustainable sources of energy.
Esther de Lange, vice-chair of the center-right EPP group in the European Parliament, argued that: "by using gas as a bridge technology, we can reduce CO2 emissions faster by moving away, for example, from the coal without having to wait for full carbon. Free technologies are widely available"
The Dutch MEP added: "In many parts of the EU gas can help bridge the gap and deliver concrete results faster".
However, for other EU policymakers, such a gas classification would be incompatible with the climate and energy goals of the EU Green Deal.
Spanish Socialist MEP Nicolás González Casares reacted :
the Commission President Ursula von der Leyen and other senior Commission officials, make the payment of the CO2 emitted by the fossil gas obligatory within the framework of the EU ETS, They qualify the fossil gas as" sustainable "as renewable energy.
Nuclear power is a controversial issue for the EU, as it pits two opposing groups of member states, led by the two largest, namely France and Germany.
Finnish Green MPs, for example, are supporting nuclear power as part of a coalition government in Helsinki. Finland is one of ten EU member states calling for nuclear to be included in taxonomic proposals in a letter to the Commission last fall.
New EU climate legislation must help citizens switch to renewables while protecting them from price shocks caused by volatile fossil fuel prices.
Protecting citizens is the objective of the work we are doing with the implementation of the EU Green Agreement and the Fit for 55 package.
We must focus on implementing the package in an ambitious and fair way with the social dimension, of course, with energy efficiency, the decarbonization of the energy system through sustainable renewable energies.
The most recent legislative push – the 'Fit for 55' package tabled in July 2021 – saw increased targets for renewable energy and energy efficiency as well as increased protection for vulnerable citizens.
Months later, Europe saw how necessary these measures were as high energy prices hit consumers, raising fears that the most vulnerable households could be further plunged into poverty and social exclusion.
The Fit for 55 legislation places citizens at the center of the energy transition, notably through measures to protect vulnerable households.
The current energy crisis highlights the need for citizens to transform themselves into "active consumers" who are looking for ways to reduce their energy bills by better insulating their homes and opting for greener options such as electric heat pumps or heat pumps. solar panels.
But even if consumers are looking for them, they may struggle to find advice on the best solution for them, or to find someone to install it.
To address this, EU countries must remove administrative barriers that prevent consumers from installing renewables, which requires full implementation of existing EU law.
The priority, of course, should be to really empower consumers to switch to energy efficiency and renewable by giving them access, for example, to installers to one-stop shops, and giving them access. financial incentives.
Develop renewable energies
In the long run, strengthening Europe's renewable energy capacity would also protect consumers from price increases, as it would increase the amount of cheap energy produced locally and reduce the EU's dependence on it. against foreign imports.
The Fit for 55 package includes a target to increase renewable energy capacity to 40% of Europe's energy mix, roughly double the current level.