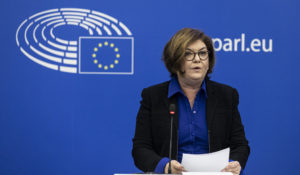 What is the aim of the new European Urban Mobility Framework?
Over 70% of EU citizens live in cities which generate 23% of all transport greenhouse gas emissions. The Sustainable and Smart Mobility Strategy stresses the need for inter-urban and urban mobility to become more sustainable, smart and healthy. To this end, the Commission is proposing a new urban mobility initiative.
The new urban mobility initiative complements the proposal for revised guidelines for the Trans-European >Transport Network (TEN-T revision). That proposal foresees that all major cities ('urban nodes') on that network must develop by 2025 a sustainable urban mobility plan. The new European Urban Mobility Framework outlines a common a list of measures and initiatives for these cities, as well as the remaining cities in the EU, to meet the challenge of making their mobility more sustainable.
Its objectives include:
contributing to EU Green House Gas reduction targets as set in the Climate Law (including -55% by 2030)
improving transport and mobility to, in and around cities as well as improving the efficiency of goods and home deliveries.
This is done by:
setting a common European framework with measures including guidance how to address air pollution, congestion, accessibility, urban road safety, growth of e-commerce, and other urban mobility challenges.
increasing the support for, and share of, sustainable transport modes (in particular public transport and active mobility such as walking and cycling) as well as zero-emission urban logistics;
promoting a coherent and integrated approach to ensure high-quality sustainable urban mobility plans;
better monitoring progress in implementing urban mobility policies and measures with a coherent approach to sustainable urban mobility data collection;
fostering the integration of innovative mobility services into urban transport systems and increased digitalisation for sustainable urban mobility
maintaining long-term competitiveness and technology leadership in the urban transport sector;
strengthening involvement of all Member States and building continuous dialogue with cities, regions and other stakeholders on all major urban mobility issues.
What are the key elements of the new EU Urban Mobility Framework?
The new framework announces:
A more ambitious approach to sustainable urban mobility planning and related indicators. This links with new requirements put forward in the revised TEN-T Regulation for the largest 424 EU cities on the TEN-T network to adopt a sustainable urban mobility plan (SUMP) and collect relevant data.
This links also with a planned Commission Recommendation in 2022 to Member States on a national support programme for rolling out SUMPs with public transport and active mobility (walking, cycling) at its heart. This will bring urban transport one step closer to climate-neutral mobility. Many towns, cities and regions throughout the EU had previously taken action, with over 1,000 SUMPs (or similar plans) currently in place.
Stronger action to create climate-neutral cities. Action points cover making urban transport resilient, environmentally-friendly and energy-efficient and identifying zero-emission solutions for urban logistics. This will be achieved, inter alia, by obligations on putting in place of recharging and refuelling infrastructure for electric and hydrogen vehicles in cities as well as improved coordination and dedicated funding for cities under the Climate-neutral and Smart Cities mission.
More targeted EU funding and better synergies between different programmes to support these action points. For example, under the EU's Horizon Europe research and innovation programme, we recently kicked-off a 'Mission' to create 100 climate-neutral and smart cities by 2030, turning these cities into living labs that inspire all other cities.
New measures to promote active mobility and protect vulnerable road users in the form of a greater focus on walking and cycling in revised SUMP guidance documents, guidance on the safe use of micromobility devices, and guidance on quality infrastructure for vulnerable road users.
More effective zero-emission city freight logistics and last-mile deliveries thanks to the integration of sustainable urban logistics plans (SULPs) within the SUMP framework, and voluntary data sharing between all types of stakeholder;
Guidance (in Q1 2022) on passenger transport-on-demand (taxis and Private Hire Vehicles with drivers (PHV) so it can become more sustainable and deliver efficient services to citizens while maintaining helping the single market to function smoothly and addressing social and safety concerns.
Accelerate digitalisation and innovation by incorporating urban mobility in the work on the provision and processing of commercially-sensitive data for multimodal digital mobility services such as Mobility as a Service (MaaS) applications, and on a common European mobility data space to facilitate access to and sharing of mobility data, and by further developing the CIVITAS Initiative in coherence with other urban initiatives.
Moreover, a detailed study will be undertaken in 2022 to map and clarify which digital solutions would be available to enable more effective and user-friendly low-emission zones and other types of urban vehicle access regulation
Efforts to increase awareness and reinforce citizen engagement within and beyond the EU, through e.g. the European Mobility Week campaign and the EU urban mobility awards and events.
A reformed EU-level group that involves cities, regions Member States and urban mobility stakeholders more closely.
What is a Sustainable Urban Mobility Plan (SUMP)?
Sustainable Urban Mobility Plans, as defined by the Urban Mobility Package of 2013, are a cornerstone of mobility within the EU's towns and cities. These strategic plans are designed to ensure that the mobility needs of people and businesses in cities and their surroundings are met, and that quality of life improves. It should include targets towards making local transport more sustainable, safe and inclusive and be adopted by relevant political authority.   They build on existing planning practices and take due consideration of involvement and participation of all relevant stakeholders and the general public, and proper monitoring and evaluation principles. Eltis, the EU urban mobility observatory, provides a wealth of information, including on SUMPs: guidance documents, city database, self-assessment tool, best practice examples, and more.
What is the link between EU Urban Mobility framework and the TEN-T revision?
The revised TEN-T Regulation proposes to strengthen the role of cities on the Trans-European Transport (TEN-T) Network as vital enablers of sustainable, efficient and multimodal transport. In particular, more than 424 large and medium-sized cities should develop their own SUMP by 2025 and collect relevant urban mobility data. Under the current TEN-T regulation, having a SUMP is a voluntary engagement.
Moreover, by 2025 these 424 cities should also have multimodal passenger hubs, including park and ride facilities, to improve first and last mile connections and to enhance the necessary capacities for long-distance connectivity via rail and other transport modes in and between cities. They also need to have multimodal freight terminals in place to ensure sustainable urban logistics.
Why is there a need for a new EU Urban Mobility Framework?
Since the first Urban Mobility Package of 2013, a lot has changed. In particular, the EU's increasingly ambitious climate, environmental, digital, health and societal objectives ask for more decisive action on urban mobility; for a shift away from the current approach based on traffic flow to an approach based on moving people and goods more sustainably. This means cities need to improve collective and public transport, provide better active mobility (walking, cycling) options, and implement efficient zero-emission urban logistics and last mile deliveries, taking into account the needs of people and businesses who need to access the city for work, leisure, shopping or tourism. In particular, more ambitious EU action is necessary to meet the increasingly ambitious global commitments, such as the Paris Agreement on climate. As provided in the Union's 2030 Climate Target Plan, transition to zero-emission mobility in urban context is indispensable to meet EU goals and therefore a strengthened EU urban mobility framework is needed.
Furthermore, the COVID-19 pandemic has accelerated trends favouring micromobility and digital mobility services as well as home deliveries.
Will the Commission become more involved in regulating / harmonising low-emission zones and other types of Urban Vehicle Access Regulations Schemes (UVARs)?
Many cities are struggling with local road congestion and air quality issues caused by transport, frequently exceeding EU air quality standards and pollution thresholds. Urban vehicle access regulations (UVARs) are an important way to tackle this challenge. In Europe, the majority (73%) of the more that 500 UVARs concern low (and zero) emission zones. Low-emission zones can be an effective tool to address local air quality problems, especially for areas where traffic is a dominant source of overall air pollution. When it comes to congestion, the situation across EU cities has not improved in recent years, and, in many places, has worsened, with very considerable costs to society: urban congestion costs are estimated to account for €180 billion per year in the EU.
The new EU Urban Mobility Framework recognises challenges faced by cities and users. We will map out and clarify which digital and technical solutions could be available to enable more effective and user-friendly UVARs.
How does the Commission help cities to adopt a smarter and more sustainable approach to urban mobility issues?
The Commission's 2013 Urban Mobility Package made recommendations for coordinated action between all levels of government and between the public and the private sectors. Taking this into account, the Commission is supporting cities through:
Targeted funding: €18.5 billion was awarded to urban projects in 2014-2020, including via CEF, H2020, ESIF, ELENA.
Technical assistance: for example via the European Investment Bank joint support programme JASPERS.
Sustainable urban mobility plan (SUMP) guidelines and accompanying guidance documents for cities to help promote multimodality, active mobility and shared mobility. The development of SUMPs will be a focal point within the new framework.
Information and awareness raising via a variety of tools and channels: EU urban mobility observatory ELTIS; European Mobility Week; the CIVITAS initiative, and annual awards and events.
Other related transport policies and legislation also support the transition to more sustainable urban mobility, in particular in the field of intelligent transport systems, alternative fuels and clean transport, and road safety.
What is the Commission's approach to new mobility services, including 'micro-mobility' (e.g., e-bikes/e-scooters)? How does this link with EU urban mobility policy?
New mobility services are part of a multimodal, integrated approach to sustainable urban mobility. They can reinforce public transport and substitute car use.
The 'micro-mobility revolution' requires more effort in terms of sharing best practice and providing guidance, especially as these vehicles pose significant safety challenges.
Some e-bikes and electric scooters fall under EU type-approval rules (depending on the power of the engine, whether it is at least partially 'human-powered', and whether there is seating position). In the case of traffic and road safety rules, it is for Member States to decide if, where and under which conditions these bicycles, e-bikes, scooters, 'segways', monowheels, etc. can circulate.
Some guidance is already available online, and a dedicated SUMP guidance document on the safety of micro-mobility will be published in December 2021. In addition, building on experience at national and local levels on safety requirements, the Commission will prepare rules on the safety of micromobility devices.