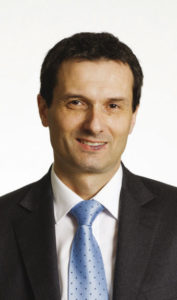 The water industry is constantly innovating …
Preserve the French model of water and guard against emerging risks: ambitious objectives that mobilise all stakeholders …
How do you analyse the challenges of innovation and ICT for the water sector?
Innovations, particularly information and communication technology (ICT), meet a dual challenge: to preserve the French model of water and to guard against emerging risks.
Preserving our French model means continuing to provide all our citizens with quality water at a reasonable price for the consumer. The challenge is daunting, at a time when more than 25% consumed is lost. Faced with this situation, companies in the sector are developing new technologies: diagnostic methods that can better anticipate leaks targeted renewal and therefore less expensive.
Innovations are also needed to guard against emerging risks. Faced with climate change and the extreme episodes it generates, the sector is constantly innovating to improve rainwater management (rainwater recovery, storage / return, treatment), but also by being able to produce energy (biogas). The sector also has concrete answers to be given in the fight against micropollutants to protect aquatic environments or the reuse of treated wastewater in order to optimise the management of our resources.
How does the Union of Water Manufacturers intervene to promote dialogue between the main decision-makers in this field?
Once a year, the IPA organises a symposium entitled "water issues". Intended to raise the awareness of decision-makers, as well as a large public, this symposium is most often held in April and each year it addresses an important theme. The UIE's annual conference is a place of exchanges, meetings and proposals. The 2018 edition, which will be held exceptionally on October 10, will focus on the heritage of water.
In partnership with the Mayors of France and the French Agency for Biodiversity (AFB), the UIE also initiated Aquaplus, the only sustainable development approach in this area. Distinguishing both companies and local authorities, the Aquaplus label is a guarantee of responsibility for those who receive it and greatly promotes dialogue between public and private actors.
In addition, the UIE and its member companies are present at the main exhibitions that punctuate the life of our federation: Pollutec in Lyon, once every two years, the Carrefours Local Water Management in Rennes, but even more as the foundation of non-collective sanitation. Finally, the UIE publishes Eau Magazine, with two issues per year. It is the review of actors and decision-makers, governments, communities, industry and users.
And to conclude with?
New technologies are extremely useful, but they must also be accompanied by a real reinvestment effort in our water heritage to maintain and improve it: I am thinking of course of the pipelines, but also of the treatment stations, civil engineering structures and stormwater management works that need to be developed.